Authors
Konstantin Pupkov, Java Developer
SoundExpert web site would not exist without skilled project developer and programmer Konstantin Pupkov. He started it from scratch having as a task only some basic ideas of how it should work. When the project was finished it was not only fully operational but, what is very important, well documented.
Currently you see the third generation of SE testing web-service which now utilizes Java-based web components - Portlets 2.0. Thanks to Konstantin transition between SE versions was smooth and seamless, all collected grades were safely transfered during upgrades.
Serge Smirnoff, Research Engineer (audio)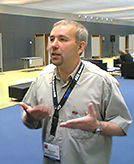 Serge Smirnoff received a degree in electrical engineering from Moscow State University of Technology and finished postgraduate study. A long-standing passion for music, sound and audio technology inspired him to start his own research of perceived audio quality measurements. He has several publications on the subject. SoundExpert Founder.
Acknowledgements
First of all we would like to thank those people who have ever downloaded and graded a single test file from SoundExpert. And those who support us with mining. Exactly broad participation of site visitors moves this project ahead.
Also SoundExpert would like to thank following people for contribution to the research:
Bernhard Feiten, T-Systems (Deutsche Telekom) who kindly found and sent us his old paper "Measuring the Coding Margin of Perceptual Codecs with The Difference Signal" when we were in urgent need for that article.
Jacco Dekkers, Philips Research Laboratories for his valuable comments and advices concerning the nature and essence of the Difference level (Df) parameter; exactly thanks to his opinion the expression for Df got its final form.
Andrey Merzlyakov, Dmitry Timofeev and Vasily Vasilenko for participation in first laboratory listening tests.