What is SoundExpert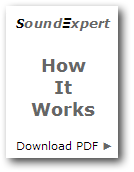 SoundExpert (SE) is a crowdtesting service that provides audio quality ratings of sound equipment and technologies such as mp3, aac, wma ... encoders, portable players, sound cards, amplifiers ...
The ratings are based solely on results of blind listening tests when listeners don't know the particular device they test. So the values are completely unbiased and free from any marketing and advertising noise.
SoundExpert provides ratings thanks to visitors who take part in testing. The more number of participants - the more devices and technologies could be tested. The ratings are computed in real time while new grades are returned by visitors. The testing procedure is simple and short enough that anyone, including you, can participate. Just download a test file (<3Mb), listen it (<15s) and send back your judgment. Details are in test file. The more accurate grades - the more reliable ratings.
SoundExpert is independent non-commercial research project. It's in beta state because it uses new audio metrics and corresponding listening test design which are not widely adopted by audio engineers. The key feature of this new method is possibility to hear sound artifacts which are normally beyond threshold of human perception. So, please, use these ratings with caution. Detailed but still easy to understand explanation of SE internal mechanics is in the article "SoundExpert - How it works".
The main idea behind this service is consumer control over sound quality measurements of various audio equipment on the market. SE, being a distributed human project, combines tiny efforts of audio enthusiasts for carrying out this task.
Results of objective Df measurements with real music material.
Auditory perception of waveform degradation.
New beginning of testing portable media players.

RSS
(Opens New Window)