Audio quality of portable players
As perceived audio quality of portable players depends mostly on performance of their digital and analog hardware circuits, objective audio measurements are important. At SoundExpert such measurements are performed in accordance with the innovative, music-based audio metric, which:
correlates well to perceived sound quality
is understandable to people without technical background; more ►
uses clear and simple measurement method with open source measurement software; more ►
measurement procedure is mature enough thanks to two years of beta testing with 30+ players; more ►
These audio measurements are shown in df-slides. One player - one slide. The most meaningful value on df-slide is histogram median, which is assumed to correlate well to perceived sound quality (the research is still in progress). The less the value, the higher playback fidelity. The opening map summerises such medians for all tested players.
<------------ Higher Fidelity

Apple
HTC
OnePlus
Shanling
Xiaomi
Df-slides below are sorted by histogram median. Top df-slides represent portable players with higher playback fidelity.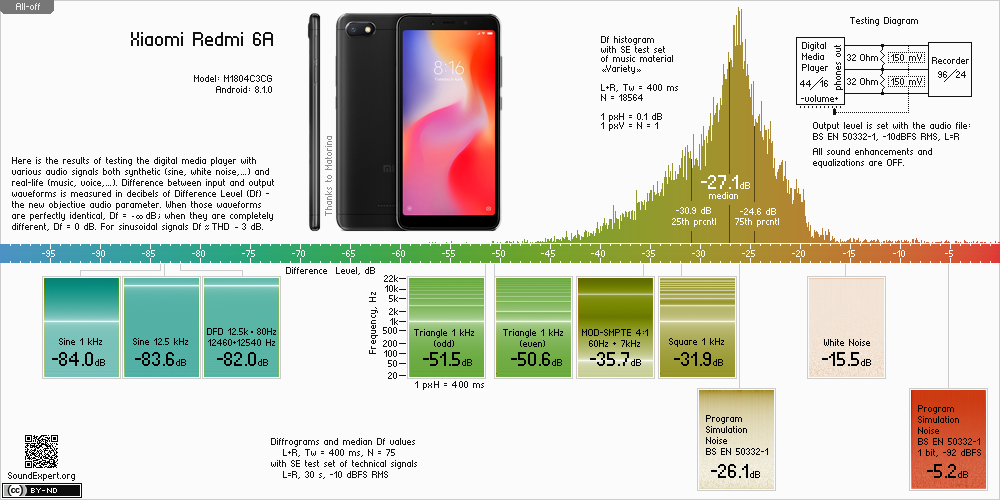 back to map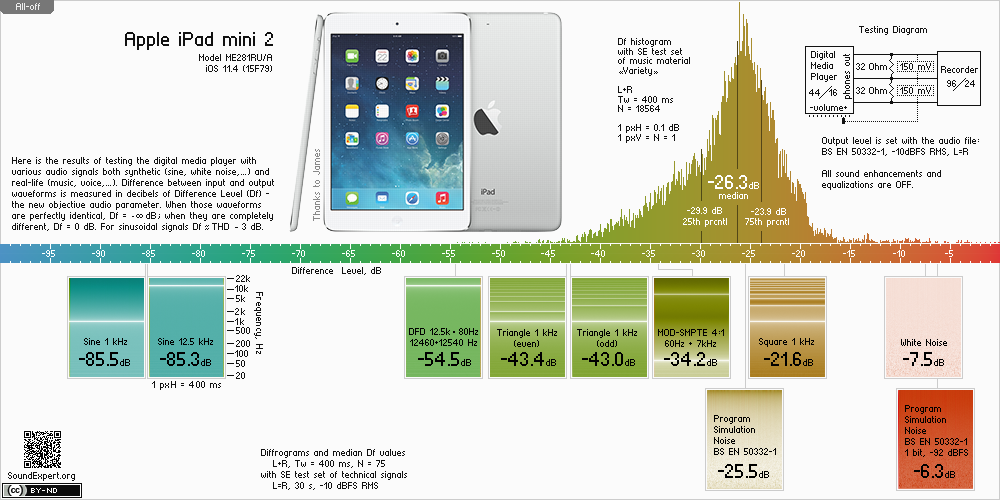 back to map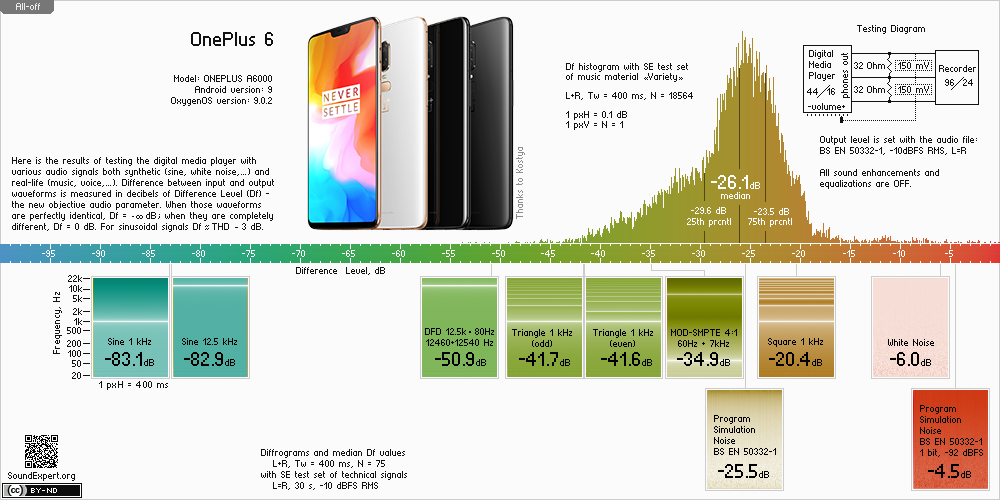 back to map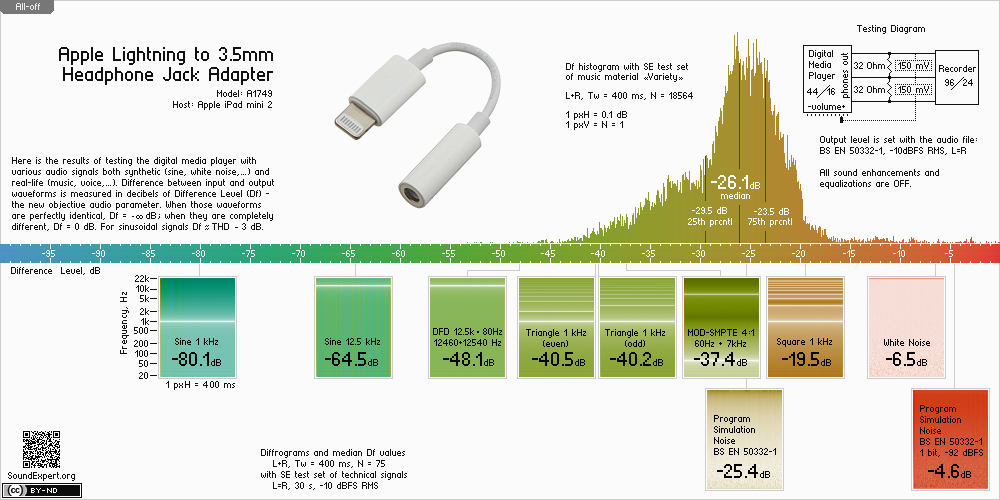 back to map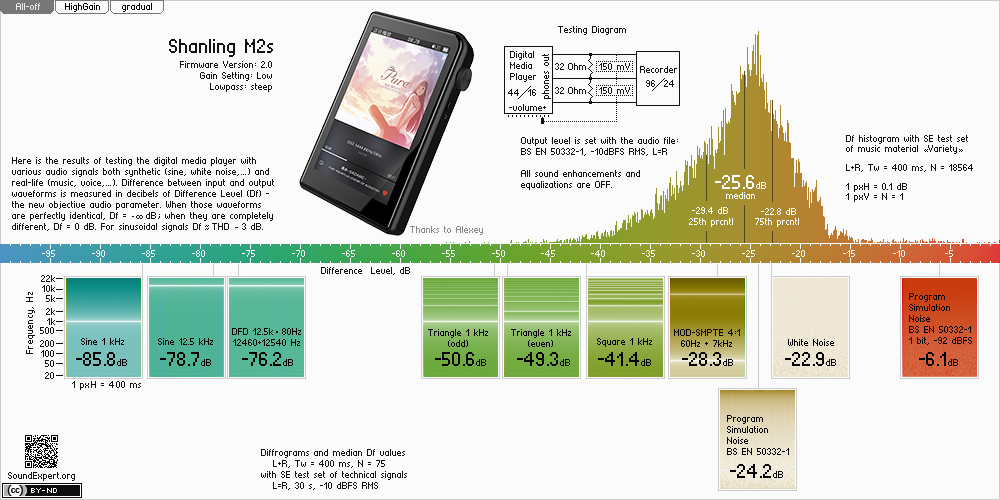 back to map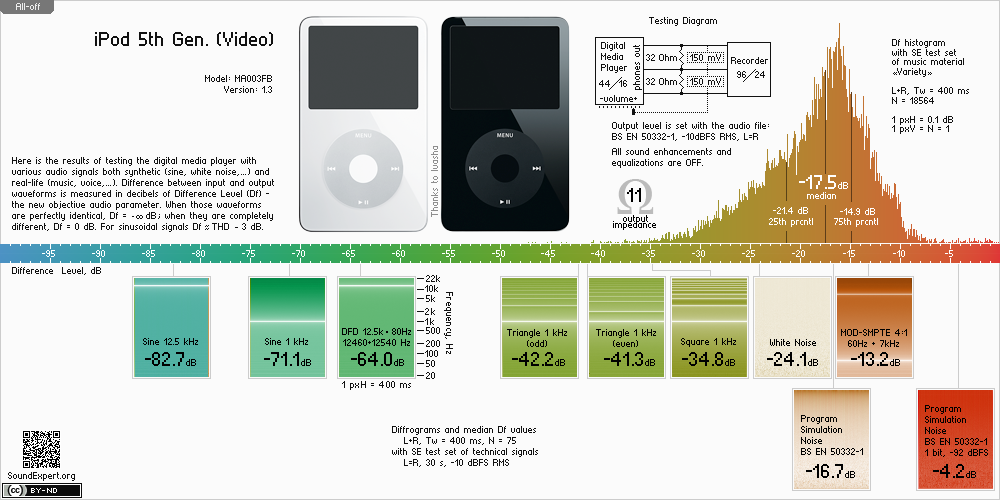 back to map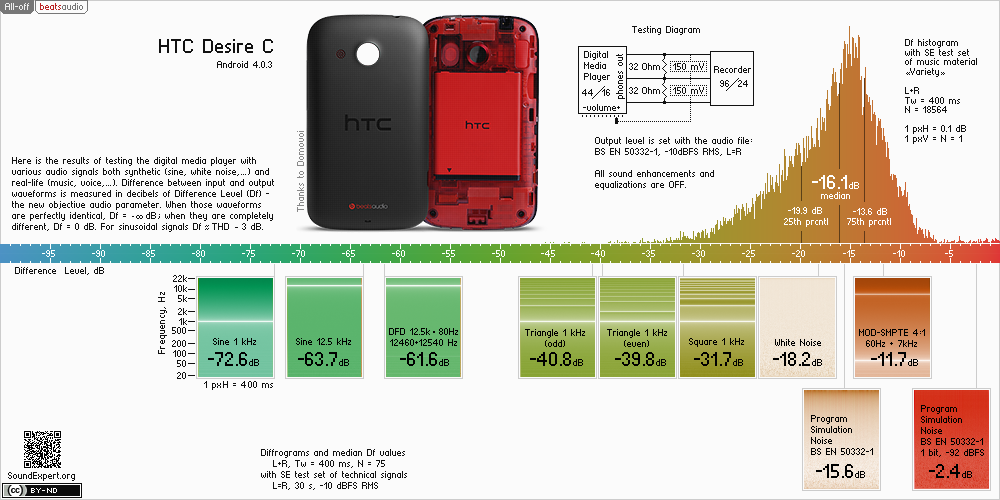 back to map
We are going to make this collection of popular DAPs as complete as possible. For the moment all players for testing are contributed by our friends (their names are on df-slides). This is just because we don't have enough funds to buy them. So, be patient.
If you want some DAP to be tested, please, drop us a line.
If you have some old/previous/ex portable player or a smartphone that was marketed as "HQ audio inside", if it is fully functional but not in use anymore, please, consider donating it to SoundExpert.
If you are ready to donate a few dollars for buying particular player for testing, please, use PayPal (specify the player you are contributing for).
Manufacturers of digital portable audio devices can order df-measurements for their products. The cost of the work is equal to retail price of the device.
Some Hi-End DAPs were measured using different (higher quality) recorder ►
Artifact signatures of portable players
In simple words artifact signature is a character of distortion peculiar to some audio device. There are two types of artifact signatures:
sound artifact signature or just sound signature, which is revealed by listening a device
signal artifact signature or just artifact signature, which is revealed by measurements
Devices that have similar signal artifact signatures distort musical signal in a similar way. This results in similar listening experience for these devices. They sound similar or in other words they have similar sound artifact signatures. So, these two types of signatures are interrelated. Also similarity of artifact signatures in most cases indicates similarity of software/hardware audio solutions used.
In our new audio metric signal artifact signatures of devices can be computed and compared with each other. So, the devices can be grouped according to similarity of their artifact signatures. Below is 3D visualization of such groups for the tested players. You can zoom and rotate the image.
Portable players in similarity space. The closer devices to each other, the more similar their artifact signatures. Colors of devices correspond to Df values of their histogram medians.

Distances between devices are computed by means of non-metric multidimensional scaling of n-dimensional matrix of mean-corrected MAE distances. The goodness-of-fit criterion STRESS = 5.7e-07 for this visualization, which is very good and this 3D model represents the actual distances between artifact signatures almost perfectly. The scatter plot itself is powered by JS library from David Barry, which is simple and powerful.
The same distances between artifact signatures can also be visualized by means of dendrogram plot:
The dendrogram showing similarity of artifact signatures of the tested players. The shorter the link between two players, the more similar their artifact signatures.



The mcMAE distance = 2 dB is critical for relation of Df measurements to subjective scores. For players that have similar artifact signatures (distance < 2 dB) their perceived sound quality correlates well to df-measurements performed with substantial amount of real-life music material (histogram medians).
How To Read Df-slides
The new audio metric has only one measurable parameter - the Difference Level (Df, dB) which measures degradation of an input signal waveform in a device under test. Input (reference) signals can be of any kind - sine, white noise, music, voice, etc. Df-slide shows such Df measurements with some basic technical signals and real-life audio material.
A set of resulting Df values is in fact an objective representation of so called sound signature or, to be more correct, artifact signature of a device.
How audio quality is measured
During the measurement procedure a portable player plays various music material and technical signals, while high resolution recorder records signal at the player's headphone jack. Afterwards, special algorithm compares initial and output waveforms and computes Difference Level(s) [Df, dB] for the latter.
Early research shows that in most cases such levels of degradation, computed with substantial amount of sound material, correspond well to perceived sound quality estimations.
The test sequence at the moment consists of 10 technical signals (sine, square, white noise, ...) and 35 full tracks of various genres, 2 hours in total (SE test set of music material "Variety").