Audio Quality of Portable Players
As perceived audio quality of portable players depends mostly on performance of their analog audio circuits, objective audio measurements is a must-have supplement to usual SE listening tests. The measurements are performed in accordance with the innovative, music based audio metric, which:
• correlates well to perceived sound quality
• is understandable to people without technical background
• has mature measurement procedure thanks to intensive beta testing during two years with 30+ players; more ...
The audio measurements of portable players are shown in df-slides. One player - one slide. The most meaningful value on df-slide is histogram median, which is assumed to correlate well to perceived sound quality (the research is still in progress). The less the value, the higher playback fidelity. The following map summerises such medians for all tested players.
<------------ Higher Fidelity
Apple
-26.3

iPad mini 2
HTC
-16.1

Desire C
Df-slides below are sorted by histogram median. Top df-slides represent portable players with higher playback fidelity.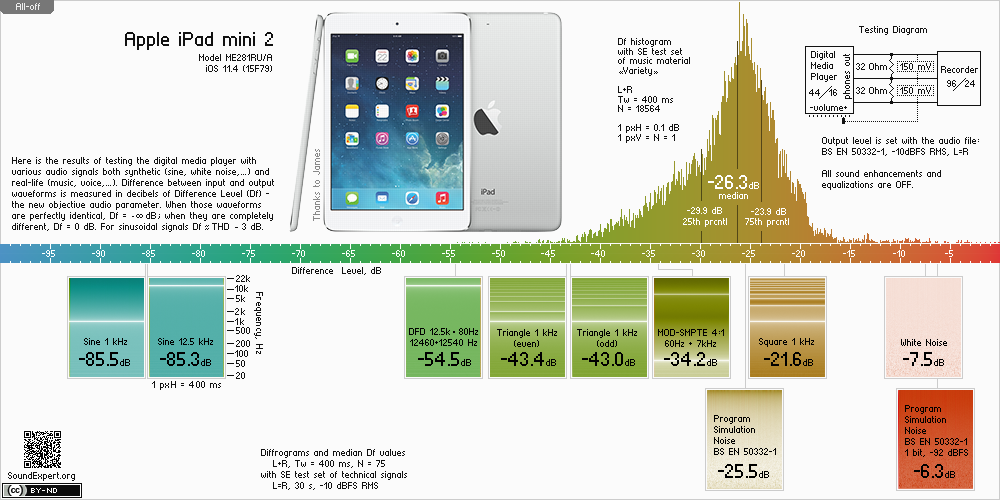 back to map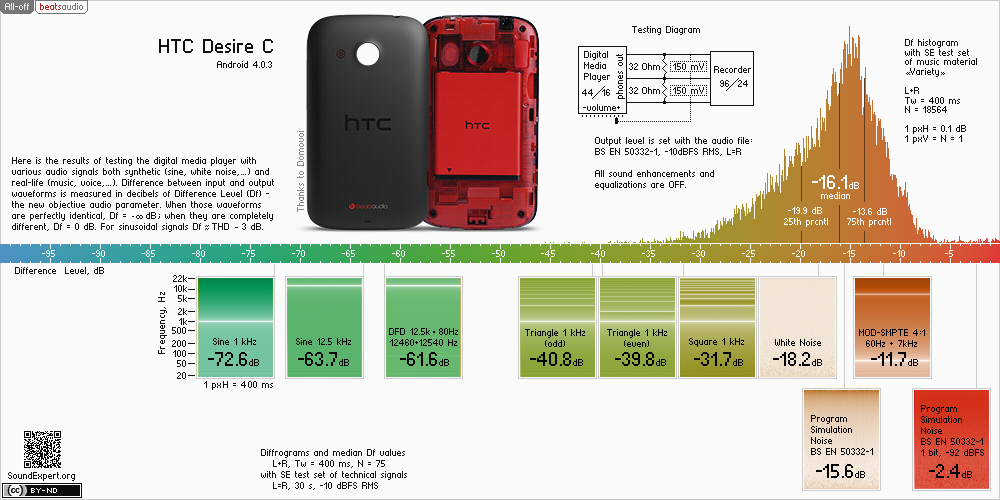 back to map
Please, propose portable players for such measurements in comments or through the contact us form. We are preparing fundraising campaign for purchasing the most popular ones. The list of proposed players so far:
Acer: Liquid Z410 (1)
Apple: iPod Nano 5G (1) • iPod Touch 6G (1)
Astell&Kern: AK100 (1)
Cowon: C2 (1)
FiiO: X5 3rd gen (1) • X7 (1)
HTC: One X (1)
Huawei: Mate 10 Pro (1)
LG: V30 (1)
Microsoft: Lumia 730 (1)
SanDisk: Sansa Clip+ (3) • Sansa Clip Zip (1) • Sansa Fuze+ (1)
Samsung: Omnia W (1)
Sony: Walkman NWZ-F806 (1) • Walkman NWZ-Z1060 (1)